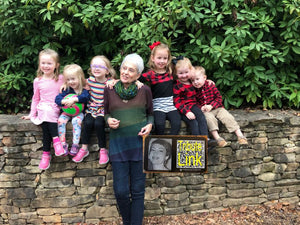 Remembering
Your loved one's story
With a simple mobile phone link...
LifetimeTribute
Remembering those whose lives meant so much to us may fade over time.  Now you can  keep their stories alive for future generations on our 'Eternal Internet Memorial Site'. Submit their story along with a photo or art that was meaningful to that person.  We laser etch the art and a unique QR Code on a metal card allowing easy  access to the story from a mobile phone camera.
You'll then decide to place it where it is easily found.  Affix it  wherever you choose.  The long lasting outdoor adhesive allows mounting the metal card to almost anything. Examples: Grave marker, memorial,  family photo, or memory book. 
Later, just point a Smartphone camera at the card and follow the link on the screen to the story you've created.  Your loved one's story is only a camera-click away from being shared with future generations and other interested visitors.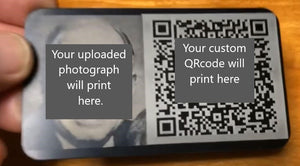 This customized black anodized aluminum card with rounded edges is custom laser etched with a web link QR code.   Before you order, UPLOAD your photo with the button above. Upon purchase, you will  receive  instructions to add your shared story on the web along with the card.  It will include your web login and  password for you to add  your story and any details you plan to share.  A metal card with a unique QR code and  photo (converted to greyscale) laser etched will be mailed to you. (converted to greyscale on the card) 
Your credit card will not be charged until your LifetimeTribute card is shipped and on its way to you.